Every spring for years we had taken our 8th graders to Gettysburg on field trips. Depending on what dates were available and our state testing schedule, we would often end up going early in the spring . One year we ended up going right at the beginning of April. The weather forecasted didn't materialize and the day turned cold , leaving many students chilly and uncomfortable. I'll never forget as we stood on Little Round Top, the wind picked up and  snow fell for a brief few minutes and blew all around us. It certainly was difficult , as we headed back to the buses, to envision the battle raging on a hot July day. Weather on all our trips in the spring were not like that, but it certainly made me have an open mind when my building principal asked us to consider moving the trip to the fall.
The fall is a great time to consider coming to Gettysburg on a field trip for several reasons and this post will highlight several opportunities to turn a spring field trip into a fall trip. It may not work for everyone, but it is worth considering.
A field trip in the spring fits in chronologically at a time in the scope and sequence of many  curriculums where the Civil War is being studied, but don't let that be the only reason to keep a trip in the spring. Some challenges may present themselves when trying to schedule a spring trip such as :
Many states have standardized testing and a spring break in the spring to work around scheduling a trip
If you chose to do a ranger led program, you will have to provide a list of potential dates and wait for the lottery to find out your field trip date
Licensed battlefield guides may be all booked
It can be more crowded at the museum and battlefield sites due to an increased number of field trips
Student behavior at the end of the school year can be challenging at times
Weather can be an issue
A field trip in the fall can eliminate some of the challenges of the spring. Here are a few benefits to be found when bringing students on a fall field trip:
 There's no standardized testing in the fall or extended days off to work around.
If you wish to do a ranger led program , your school can pick your date and program or programs as there is no selection lottery.
The Gettysburg Foundation museum with it's timed ticket to the movie and cyclorama, are much less crowded and times are readily available to pick from.
The weather fluctuates much less. Now, the weather can still not be perfect , but chances are it won't be as bad as the spring.
Student behavior may not be what is like at the end of the year
It will be much less crowded at local restaurants and battlefield sites.
What can you do on the field trip?
Free Ranger Educational Programs
There are several different types of programs to pick from. These programs are offered in the fall and spring. In the fall, teachers can pick the date and time of the program, where in the spring there is a lottery system for dates of programs where dates and times are picked based on several options a teacher gives so a teacher may not get their first choice.
Click here to view the list of offered programs
Movie, Cyclorama, and Museum
The Gettysburg Foundation Museum offers an informational movie, viewing of the Cyclorama painting, and museum visitation. Tickets are available at a reasonable cost per student.
Click here to find out the various opportunities offered by the Gettysburg Foundation 
Touring the Battlefield
Licensed Battlefield Guided Bus Tour 
A licensed battlefield guide is a trained professional who can lead a bus tour of the battlefield for students.  These guides train for years and must pass extensive tests administered by the National Park Service to qualify to give tours. These historians are the most qualified, knowledgeable, skilled and professional individuals licensed by the National Park Service as guides. A guide would ride on the bus with students. Again, in the fall, it will be much easier to schedule a guide as there could be limited availability in the spring. Guides can be scheduled by contacting the Gettysburg Foundation Sales office.
How to give students context for a fall field trip to Gettysburg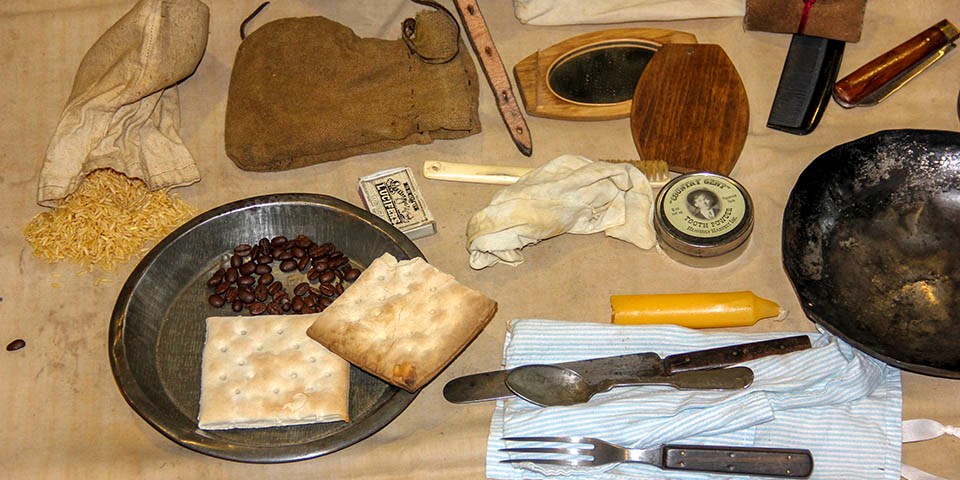 Many curriculums don't cover the Civil War in the fall. Here's a few ideas of how to work around that fact. Take several days before the field trip to stage a crash course or a "Gettysburg Week" . During the crash course, use some materials the Gettysburg  Education office provides to help students learn the basics about the causes of the Civil War and the battle of Gettysburg.
One item is the Traveling Trunk which can give students a hands on experience of Civil War items. The trunk contains a uniform, items a soldier would use to pass the time, medical items, and items related. The trunk can be reserved and shipped to your school.
Another trunk to rent is the traveling battlefield map. It's a battlefield map in a "box".
"Gettysburg Battlefield in a Box" traveling maps can be shipped to your school, with accompanying YouTube link and teacher's guide for everything you need to teach the campaign and battle of Gettysburg interactively. The box can be used right in the middle of a classroom floor, or from a common room for the whole grade or school. The map materials and curriculum is recommended for students in grades 4 through 12. This activity can help give students a sense of the locations to be visited at the battlefield park.
Documents
Download one of the CURRICULUM MATERIALS  books from the
Parks as Classroom page on the Gettysburg National Park website 
The Pickett's Charge booklet has some reference pages to help summarize the causes of the war, reasons for the battle taking place in Gettysburg, and a summary of the three days of the battle. Use pages 7 to 12 of the booklet.
Click here to download a PDF of the Pickett's Charge booklet
Video Link
Video summary of the events of the Civil War up to Gettysburg to help set context in a basic format using an app called "Educreations".
Here are a few links to some review and practice games
Gettysburg Quizziz  – Quizziz is an interactive game that can be played live in the classroom or assigned as an extension activity
Gettysburg Quizlet – Quizlet has a series of activities to practice vocabulary.
Click here to go to the Gettysburg National Park Education web site for all field trip information and available resources 
Consider giving a fall field trip a chance!
Blog post author Rob Finkill has been teaching 8th grade American History for 20 years at Derry Township School District in Hershey, PA. 2019 was also his ninth summer working as a teacher ranger at Gettysburg.
He has been bringing school groups to Gettysburg for many of those years and since 2017, has been coming in the fall.